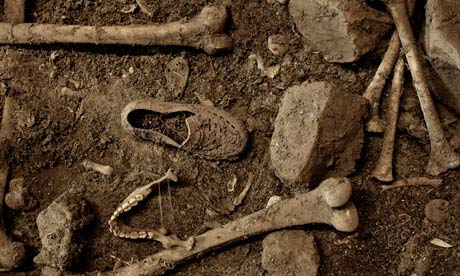 Sean O'Hagan says that Pieter Hugo's collection of old photographs of the 1994 Rwandan genocide lives up to the artistic reputation of the photographer whose critically acclaimed works, The Hyena and Other Men and Nollywood, have often been referenced in mainstream popular culture.
While Hugo maintains his deep suspicion of photography and its ability to communicate, O'Hagan says this series of older works is a "powerfully restrained piece of work":
A few weeks ago, Pieter Hugo won the Seydo Keita award, the most prestigious prize at the Rencontres de Bamako in Mali, Africa's foremost photography festival. I have been watching Hugo's progress intently since I interviewed him for the Observer in July 2008, having been astonished by the images in his book The Hyena and Other Men, which went on to become one of the most celebrated photobooks of the noughties.

I wrote then that the book would be a hard act to follow, but Hugo has gone his own way with a keen eye for harsh socio-political subject matter. In 2009, he published Nollywood, a series of staged portraits from the strange and often disturbing world of the Nigerian film industry, the third biggest in the world after Hollywood and Bollywood.
Book details
» read article